Zones of Regulation
At St Mary's, we recognise the importance of promoting positive mental health and supporting the emotional wellbeing of our children and families. We aim to create an open culture around the discussion of mental health and wellbeing through the implementation of the Zones of Regulation curriculum. We teach our children to identify emotions in themselves, and others, and provide them with strategies to help regulate their emotions and improve their wellbeing.
The below video explains the Zones of Regulation in more detail, including how we use it at St Mary's to support the children. The rest of the webpage includes information and resources to support at home.
The Zones of Regulation - St Mary's C of E Byfleet Video
The Zones of Regulation is a curriculum designed to foster self-regulation and emotional control created by Occupational Therapist Leah M. Kuypers. Self-regulation can be described as the ability to adjust your level of alertness (including your senses, emotions and impulses) to fit the situation you are in and express this through socially appropriate behaviours.
The lessons and learning activities are designed to help the children learn different strategies to cope and manage their emotions based on the zone they're in. They are taught to be able to self-identify how they're feeling and categorise it based on colour – blue, green, yellow and red.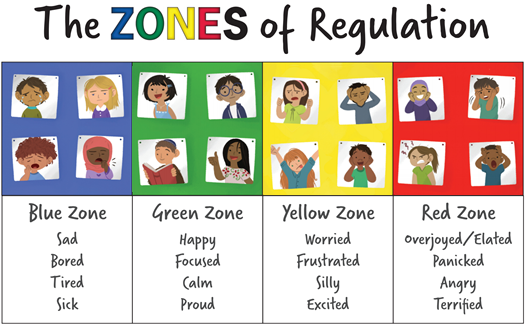 What are the different zones?
Blue Zone: Low level of arousal; not ready to learn; feels sad, sick, tired, bored, moving slowly.
Green Zone: Calm state of alertness; optimal level to learn; feels happy, calm, feeling okay, focused.
Yellow Zone: Heightened state of alertness; elevated emotions; has some control; feels frustrated, worried, silly/wiggly, excited, loss of some control.
Red Zone: Heightened state of alertness and intense emotions; not an optimal level for learning; out of control; feels mad/angry, terrified, yelling/hitting, elated, out of control.
The children are taught that everyone experiences all of the zones at different points. It will be explained to them that the Red and Yellow zones are not necessarily 'bad/negative' zones and that we may experience all of them at one time or another.
Aims
As a school we aim to help the children:
Increase their emotional vocabulary so they can explain how they are feeling.
Recognise when they are in the different zones and identify a range of calming and alerting strategies that support them.
Recognise when other people are in different zones, including reading facial expressions, to develop empathy.
Develop problem-solving skills, resilience and understand how their actions can affect other people.
Understanding Zone Tools
You can use the resources below to support children with sensory devices and calming techniques to help them move between zones.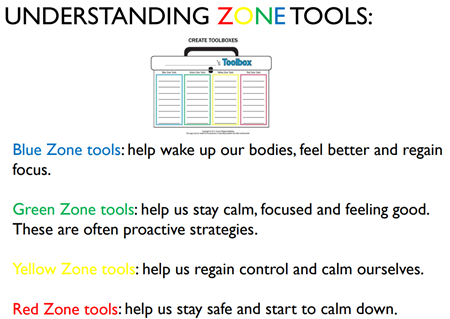 How will my child learn about the Zones of Regulation?
At St Mary's, we are using The Zones of Regulation as a whole school approach which allows us to develop a common language across the school in which to discuss emotions and behaviours. Teachers share the content of the curriculum flexibly with their classes, in line with their age and in response to the needs of the class. Some children might prefer not to use the 'zones language' but label the emotions directly – this is fine!
Some individuals and small groups may work more intensively with the materials to support their particular needs which will be communicated with parents.
All classrooms have the zones on display and the children can move their name or show a card to an adult to show how they are feeling. Depending on the zone they are in, and the child's need, time will be given to help them regulate. This includes talking with an adult and using tools from the class sensory box. We want to help all children recognise when they are beginning to feel uncomfortable and have a toolbox of ideas to help them regulate themselves.
How can I help my child use The Zones of Regulation at home?
Using the resources below, talk through the zones with your child and ask them to identify how they might feel in each zone. You can discuss emotions for each zone as well as physical symptoms such as butterflies in my tummy. Write them onto a check in chart.
Discuss with them what they may be doing when in that zone. For example, if they are in the Yellow Zone and feeling worried, they may be fidgeting or unable to sit down. Discuss how they can identify the zone they are in from their actions.
Discuss together ways they can feel settled in the zone they identify in. Use yourself as an example. 'I'm in the Yellow Zone and feeling worried, I could use some breathing techniques to help me feel calmer'.
Create a list of strategies together that may work for the child. Remind them that everyone is different and the strategies that work for one person might not help them so they need to think, try and change where needed. They do not have to use the same strategy each time.
Remind them that we will experience all zones and there are no 'good' or 'bad' zones. Being able to regulate our emotions depends on us recognising our emotion, understanding it and putting a support strategy in place.
If they are unable to identify their emotion, try using a curious approach by asking, "I wonder if you are in the yellow zone at the moment, you seem a bit worried.' This may then open up the discussion.
Support them with identify their feeling and then validate, "You seem frustrated, am I right? I can understand why you may feel like this, would you like to talk about it or do you need some time to self-regulate?"
Other ways to help
Identify your own feelings using zones language in front of your child. For example, 'I'm frustrated. I think I am in the Yellow Zone.'
Modelling to show the children how you use tools to regulate. For example, 'I'm going to make myself a cup of tea and sit down quietly to drink it because I am in the Blue Zone' and afterwards tell your child how using those tools helped you.
Regular Check-ins – you could create your own family Zones of Regulation chart.
Discuss which zone a character in a film / book might be in.
Discuss the different zones and tools they can use when they are regulated / calm to ensure they are ready to listen and regulate.
Use books to promote discussion about the range of emotions e.g. The Colour Monster by Anna Llenas, Bottled by Tom Brassington, The Day The Crayons Quit by Oliver Jeffers.
If you have any further questions, or would like support in implementing the Zones of Regulation at home, please contact the school asking for your child's class teacher or Laura our Home School Link Worker.