November 2016
It's been a busy month for the Cheetah cubs. November brought our new Toy Story topic, an assessment week that reviewed all of our previous autumn learning, our first class showing assembly to the rest of the school, and the beginnings of our nativity singing and dancing rehearsals. Yes… the run up to Christmas has officially started!
Our Toy Story project addresses the question of "how have toys changed over the last one hundred years?" We have compared toys from "the olden days" to those that we play with now and considered things such as:
How have the materials that toys are made of changed?
If old toys didn't use robotics, electricity or batteries, how did they move?
If we no longer had access to our own toys and could only play with toys from the past, would we be as entertained as the children who played with them then?
Assessment week proved to be an intense experience for the cubs but I was incredibly proud of the amount of their learning that they have retained, as evidenced in their assessments. Our literacy that week was based on the book The Tiger Who Came to Tea, which resulted in the children re-telling the story in an extended piece of assessed writing. I was so impressed by the quality of their work and for many of them it signposted a real transformation in their writing since beginning year 1 in September.
We celebrated November's value of 'self-esteem' by discussing as a class what exactly it means to have high or low self-esteem. We considered how someone's self-esteem can be built and contrastingly how it can deteriorate through feeling down or negative. Therefore, in an effort to nurture our inner-optimists, we all wrote positive things down about each other and one thing we liked about ourselves. Reading these anecdotes out to each other was a lovely sentiment to remind us all of the wonderful things that make us special and that we need to work as a class to ensure we keep each other happy.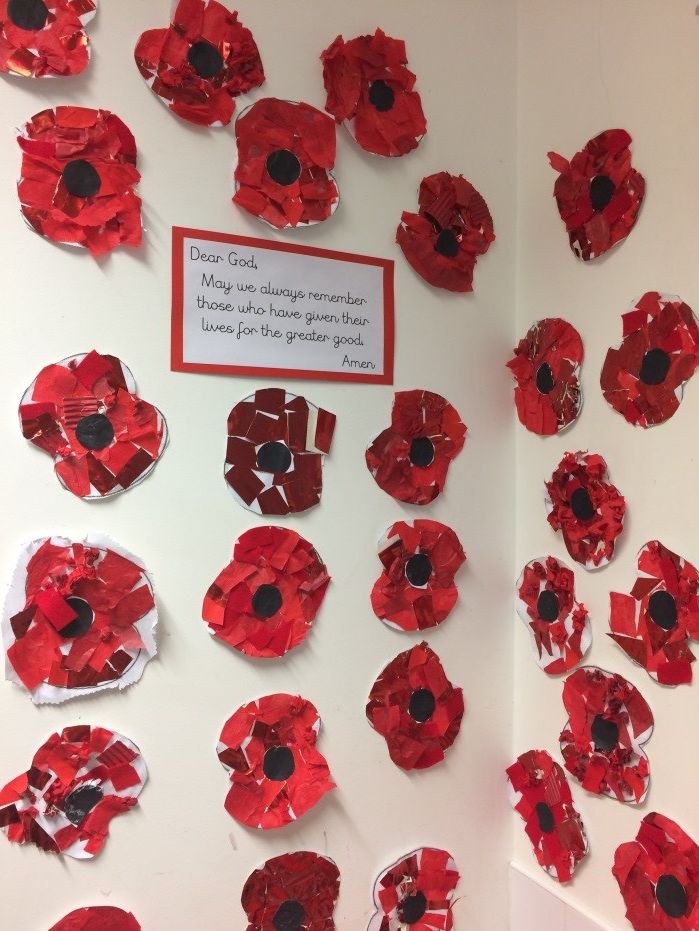 Here are our remembrance poppy collages in our classroom, along with a prayer to remember all of those who have given their lives for the greater good.

Here we are enjoying our new maths game whereby we are all given a random number and need to arrange ourselves from smallest to largest as quickly as possible!