Home School Link Worker
My name is Jane Wall-Budden. I am the Home School Link Worker at St Mary's C of E Primary School.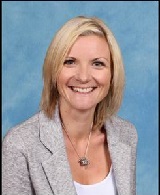 My role as the Home School Link Worker is to:
Support parents, families and pupils on a wide range of issues.
Help children and families to increase school attendance and punctuality.
Develop and maintain positive relationships between the home and school and act as a link between home and school.
Who can I help?
My role is tailored to support the needs of your family and your circumstances; I can help in many ways including:
Enabling parents and children to discuss concerns or worries in a safe and secure environment.
Supporting families reacting to change such as parental separation or bereavement.
Assisting parents / carers whose children are reluctant to attend school or have been excluded.
Helping parents / carers who may need support on a wide range of issues or difficulties impacting on their family life eg illness, domestic abuse, disability or financial difficulties.
Offering parenting guidance and support and courses.
Helping families and children to access services, resources and local community information.
Offering support in school meetings.
Liaising with outside agencies (school nurse, CAHMS, health visitors, GPs) and signpost parents.
Help to fill out forms such as: Free School meals, Education Maintained Allowance (EMA), Disability Living Allowance (DLA).
How to contact me?
You can complete a referral form found on the link below and email it to me at:
Hslw1@stmarys-byfleet.surrey.sch.uk
You will also find these in the leaflet dispenser on the small table in St Mary's School office reception area. Please hand the completed form in to the school office in a sealed envelope addressed 'HSLW Confidential'.
I will review your referral form, discuss it with the Headteacher and then get back to you about what support I can offer you. If your referral falls under the HSLW umbrella, I will be in contact to make the necessary arrangements to meet. When we meet I will explore with you the difficulties your child or family is experiencing and together we can try to find the best way forward.
Where it is considered that you could be best supported via the class teacher or SENCo your referral will be passed on and they will be in contact with you.
Why I may contact you
Staff at school can also complete a referral form to ask for my involvement. I may therefore contact you if school staff have asked me to.
Confidentiality
I am able to offer a confidential service regarding personal issues. However, all information is shared with the Senior Leadership Team as part of our confidentiality policy. If necessary, I would seek your permission to also share the information with other staff members within school or outside agencies. Should a safeguarding issue be identified, we are legally bound to follow Government guidelines.
Many thanks
Jane Wall-Budden