December 2016
We have had a very busy December, getting ready for Christmas. Near the beginning of the month we were fortunate enough to be invited to Bishop David Brown School to watch their Peter Pan Pantomime Performance. The actors were absolutely fantastic and all year 5's offered great audience interaction!
Guildford Flames
We also had the opportunity to attend a workshop that was led by two of the Guildford Flames ice hockey players. We were able to ask lots of questions about the sport they play and were even allowed to try on some of the clothing and equipment. They also spoke to us about the dangers of drugs and the negative impact that these can have on day to day life as well as professional sports players. We even got given goodie bags which included free bowling, ice skating and a Guildford Flames game ticket!
Lego We Do
At St Mary's we are very lucky to have a Lego 'We-do' set. Working in teams we built a Lego model. We then programmed an Ipad to control the model. We applied our knowledge and understanding from science so that we were able to construct a lever mechanism. To ensure the device worked correctly we needed to identify and correct errors in our coding.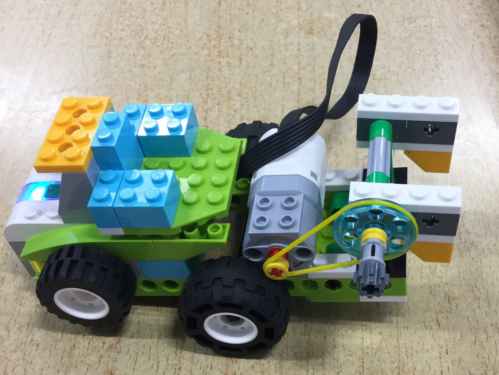 Christmas
Year 5 have been working very hard to learn lines for our 'A Christmas Carol' church service. All children worked so hard to deliver their lines and be confident actors. I think they did a great job!